In this blog we take a look at the increasing requirement for gluten free products and what we're doing to offer an increased range for our customers.
Gluten is a protein found in wheat, barley and rye, and can cause inflammatory, immunological and autoimmune reactions in some people.  Current estimates say that 1% of the UK population have coeliac disease and at least 10% of the UK population have non-coeliac gluten sensitivity, meaning they all follow a gluten free diet. 
Gluten Free Cream Tea
Here at Devon Heaven we have always provided a gluten free cream tea hamper.  This hamper contains gluten free hand baked scones produced for us in Devon by a specialist gluten free bakery.  Devonshire clotted cream, strawberry jam and hand stitched tea sachets accompany the scones for the perfect cream tea.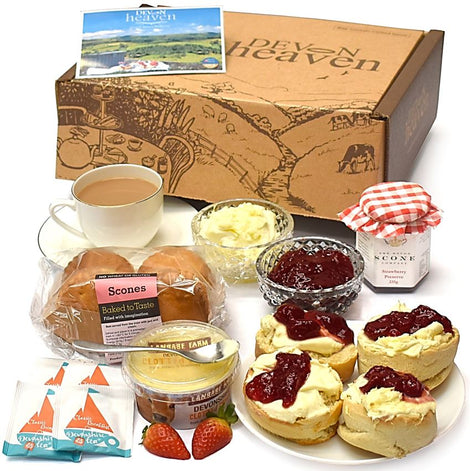 Gluten Free Afternoon Tea
We've now taken this popular hamper to the next level by introducing our Gluten Free Afternoon Tea Hamper.  This hamper takes the gluten free scones, Devonshire clotted cream, strawberry jam and tea sachets and includes a tomato and smoked cheddar tart, cranberry oat crunch biscuits and a millionaire's slice for that added touch of luxury.  The tomato and smoked cheddar tart is produced by the same gluten free specialist bakery that our scones are sourced from, ensuring only the finest ingredients are used. The cranberry oat crunch biscuits and the millionaire's slice are both produced by bakeries who put love and care into baking their produce to ensure they only leave the bakery at the highest quality.
Additional Gluten Free Produce
We stock many items in our collection which are suitable for people who require a gluten free diet. These can be added to one of our predefined hampers, or you can create your own hamper. Here's just a small selection of what's available.
Millionaire Shortbread
The buttery shortbread is made with rice flour and topped with a layer of caramel and a thick layer of milk chocolate to provide a rich indulgent treat.
Salted Caramel Fudge
Made locally by The Devon Fudge Company who have many years experience in producing high quality fudge.  An award winning fudge which is deliciously moreish, and will melt in the mouth with a sweet salted caramel flavour.
Mr Filberts Mixed Nuts
Roasted peanuts, cashews and almonds which are infused with black truffle and sea salt provide the perfect snacking food.
Produced by Mr Filberts Fine Foods in the West Country who provide high quality produce.
Blackberry & Apple Jam
Brendon Hill crafts was established 30 years ago on the edge of Exmoor. Their produce is made in small batches of usually 20-25 jars at a time. This blackberry and apple jam is full of juicy fruit which is well balanced, and perfect accompaniment for gluten free scones.
Raspberry Crush Soft Drink
This soft drink is crammed with sweet and succulent raspberries and is paired with lemons and Devon spring water to produce a refreshing taste. Produced by Luscombe drinks at Buckfastleigh.
Our full range of gluten free produce can be found HERE.
Summary
We are continuing to work with local producers to bring our customers new and exciting gluten free produce to enhance our collection. 
Enjoy the perfect blend of flavours and textures while sipping on a selection of premium teas. Whether you're gluten sensitive or simply seeking an alternative option these cream and afternoon teas can ensure a scrumptious experience that everyone can relish.